Promotional Staff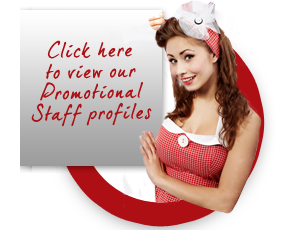 Our enthusiastic promotional event staff are selected based on their ability to spur interest in your product, service or company in an upbeat, friendly but professional manner. At Event Protocol, our promotional staff will deliver your message effectively and get results at your next event marketing campaign.
Services we Provide
Brand Ambassadors
Promotional models
Product demonstrators
Product samplers
Leafleteers
Field marketing
Character costumes
Exhibition staff
VIP hostesses
Entertainers & performers
Street teams
Field marketing staff
Promo guys and girls
Please contact us if you can't see your desired service listed, we'll be happy to help!
Types of events
Product Launches
Promotional tours & roadshows
Product demonstrations
Motor shows
Grand openings
Private dinners & black tie events
Themed events
Consumer exhibitions
Large consumer shows
Festivals

Event management companies | Live consumer event organisers | Experiential marketing agencies | PR companies |  FMCG companies | Automative clients |  Media firms … plus more